Roof-Reliant Landscaping™ Step 17F: Water Storage - Cistern Materials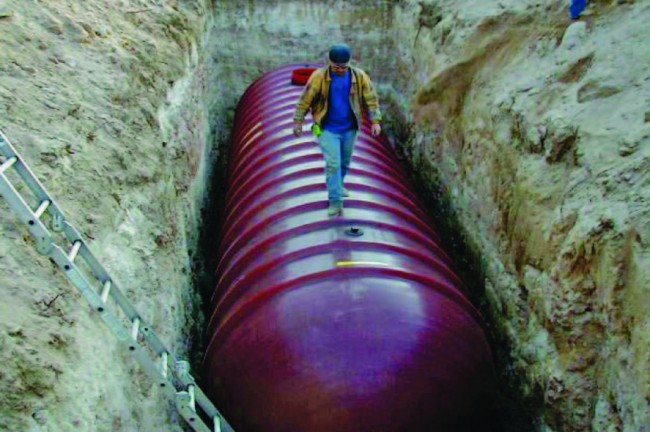 Above: A fiberglass tank being installed.
Cistern Materials
Water-storage vessels come in a wide variety of materials, ranging from high-density polyethylene, epoxy-coated steel and fiberglass on the high-tech side to wood, rock and concrete on the low-tech side. Each type of material has its advantages as well as disadvantages. The following alphabetical list does not endorse any one material or system over any other.
Concrete
Even taking into account the rising price of concrete in recent years, reinforced concrete tanks can be an economical choice. Such tanks can be custom-built on-site, or they can be prefabricated off-site. One important advantage of concrete tanks is that they are usually strong enough to support vehicular traffic.
To prevent water from leaching slowly out of the tank, the inside of a concrete tank is often coated with tar. However, tar can leach into your water supply and then subsequently end up in your soil. Your plants will survive, but over time, your soil might suffer from the increased quantity of low level toxins associated with tar.
Concrete can be used in aboveground, partially buried and underground systems. Plastic liners may also be used inside concrete tanks, which solves the problem of tar leaching and helps to prevent potential leaks.
Ferrocement
Ferrocement, often called ferroconcrete, is a form of concrete tank that uses significant amounts of rebar and chicken wire in the form of a skeleton, upon which a specific mixture of sand, cement and water is spread. Since ferrocement is thinner than concrete, it has the potential to be the least expensive of all cisterns. It also has a greater tendency to leak compared to other materials. Such tanks can easily increase the cost of your project if improperly installed or if leaks are not quickly and effectively addressed.
These tanks can be made into almost any shape. They can be used in any of the three relationships to grade (aboveground, partially buried or underground). They are used throughout the developing world with great success, but an onsite ferrocement-tank building project requires serious construction and management skills as well as some significant research.
Fiberglass
Underground fiberglass cisterns are commercially available and start becoming cost-effective in the 5,000- to 10,000-gallon range. You may have to crane an underground fiberglass tank into your hole due to its size (even though it is relatively lightweight), but this is also often true of other cistern materials including concrete and metal. Fiberglass is an extremely durable and long-lasting material that can be patched with relative ease.
Some underground fiberglass tanks can withstand vehicular traffic, which means that placement of the tank underneath a driveway becomes an option. Aboveground fiberglass tanks are available in smaller sizes, but they must be shaded and/or be UV resistant. Fiberglass fittings are integral parts of the tanks themselves, so they are less prone to leaks at pipe connections than are other materials.
Even though cisterns in roof-reliant landscaping are intended to provide water for landscape irrigation only, to be on the safe side you should consider having your tank coated with a USDA-approved food-grade coating. The extra cost is relatively low and the safety benefit is considerable since uncoated fiberglass can be dangerous if ingested. Your plants probably will not mind the leaching from your tank, but in case anyone accidentally puts his/her mouth to your hose to drink, you will not have the ingestion of fiberglass particles to worry about.
Metal
Most metals are not used for storing water due to their cost, but there are two types of metal tanks that can be cost-effective. Galvanized steel, which is often corrugated, is one option. Another option is a non-galvanized underground steel tank, which can be a good choice for large-tank and heavyvehicular- traffic installations.
As aboveground options go, galvanized steel is a good choice from an aesthetic perspective, as the figure below shows. These tanks come in a variety of sizes, but they are not the most durable of cistern materials.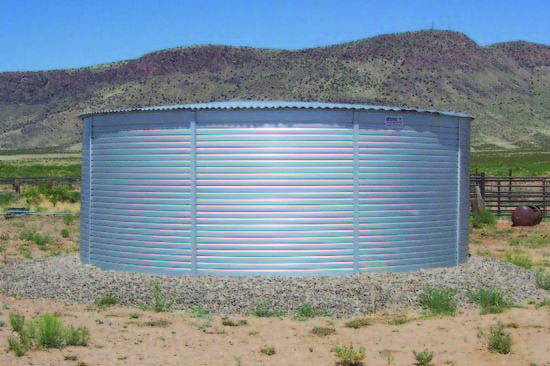 Above: Steel tanks are a cost effective option at 5,000 gallons and larger.
Due to the high expense, underground steel is not an option for small scale projects. Steel tanks begin to become cost effective in the 5,000- to 10,000-gallon range. Steel tanks need to be coated on the outside with coal tar epoxy or another coating or they will rapidly corrode in New Mexico's alkaline soils.
Plastic
Plastic has become an increasingly common cistern material, in part because it can be very cost effective. It can be used in aboveground, partially buried and underground applications. Plastic tanks do not require any type of internal coating. However, plastic tanks that are aboveground (either fully or partially) and will be exposed to strong sunlight will need an exterior UV-resistant coating. Plastic tanks should be as opaque as possible in order to prevent algae growth. For aboveground applications, plastic tanks are typically molded into one-piece cylinders that stand on flat bottoms.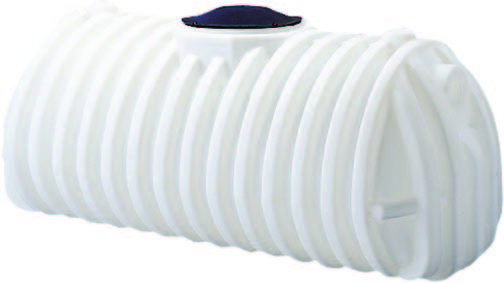 Above: A plastic tank can be very cost effective.
A lightweight and relatively inexpensive material, plastic can be prefabricated in a variety of shapes and sizes. Individual plastic tanks, however, are not available in large sizes, but they can be connected together to attain a large storage capacity for the entire system. (See Figure Below.)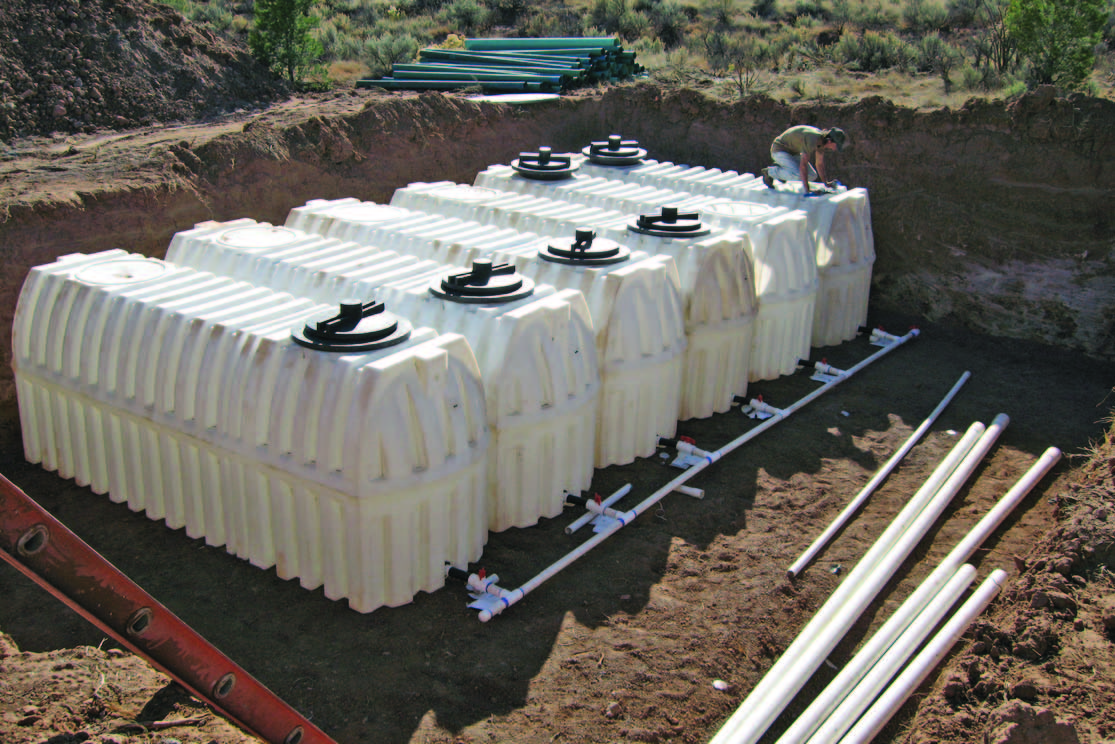 Above:: Tanks can be connected together to create larger storage capacity. These tanks will be connected in parallel, so that an individual tank can be shut off for maintenance or repair without disabling the entire system.
Underground plastic tanks are available in a variety of sizes up to about 2,000 gallons. For structural reasons, many of these plastic tanks require that a percentage of the cistern remains full at all times. Some plastic tanks can be completely emptied, such as the tank shown in the figure below, which has thick tank walls, a round bottom and deeply corrugated sides.
Modular tank systems represent a new development in cistern technology. Modular systems consist of strong but essentially empty plastic blocks that are stacked on top of each other. These blocks effectively create a skeleton, completely enclosed in a plastic liner, which can withstand vehicular traffic.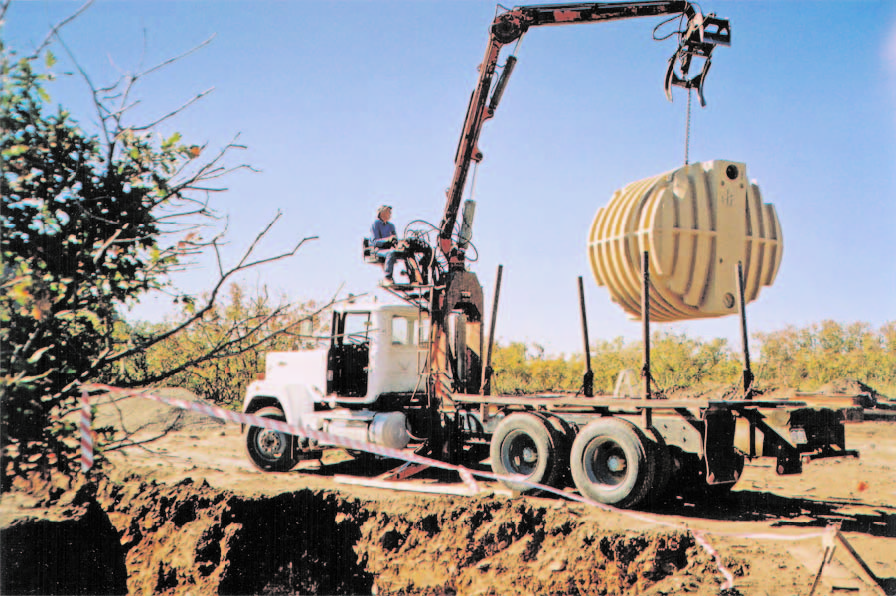 Above: Large tanks must be delivered onsite via truck and lowered into place with a crane. The thick walls of this tank enable it to sit completely empty in the ground.