Roof-Reliant Landscaping™ Step 18B: Water Distribution - Inline Pump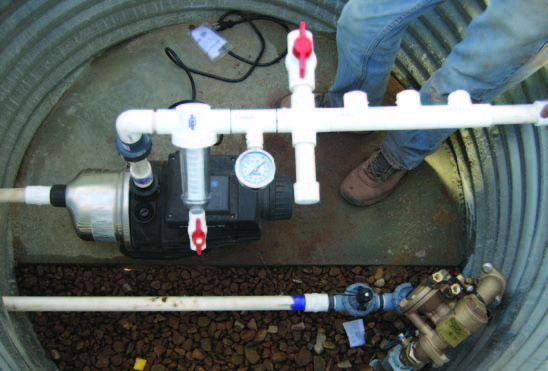 Above: Sample inline pumphouse with spin filter manifold
Inline Pumps
At minimum, inline pump systems require an inline pump and a pump house. The pump house protects the pump from the elements as well as
from vandals and/or thieves. Pump houses are typically located underground (Figure above), but they can also be constructed aboveground in a separate structure.
Like sump pumps, inline pumps can distribute water to plants by connecting directly into a garden hose. As with sump pump systems, in order to effectively run drip irrigation with an inline pump system a separate pressure tank is typically needed. However, one of the simplest inline pump systems features a small pressure tank built into the pump, which can be used for some drip irrigation applications.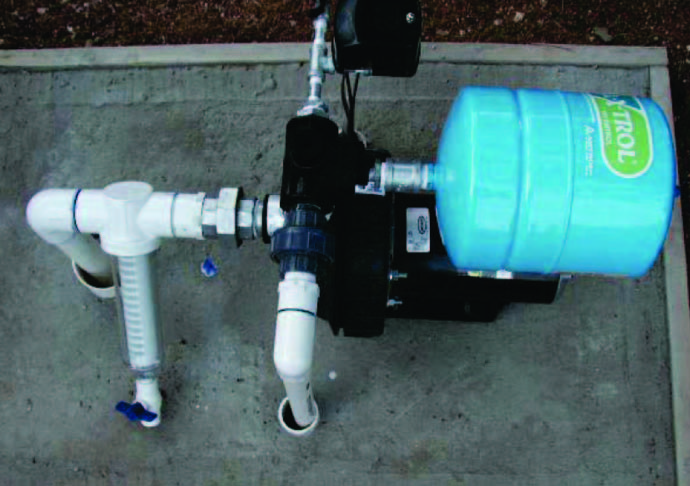 Above: Inline pump and system controls with pressure tank
Many inline pumps have a drain for winterization in the fall and a priming hole for start-up in the spring. The depth and slope of your pressurized lines will dictate whether you will need to drain or prime your pump.

One of the main advantages of having an inline pump is that the pump is easily accessible if it malfunctions. However, a leaky inline pump can flood an entire pump house quickly if an overflow pipe to daylight is not provided in the pumphouse.
Two Irrigation Methods
Typically, sump pumps supply the pressurized water necessary for hose watering, while inline pumps provide the water pressure needed for drip irrigation (and/or time-efficient hose watering).