Native Challenges and Gardening Wisdom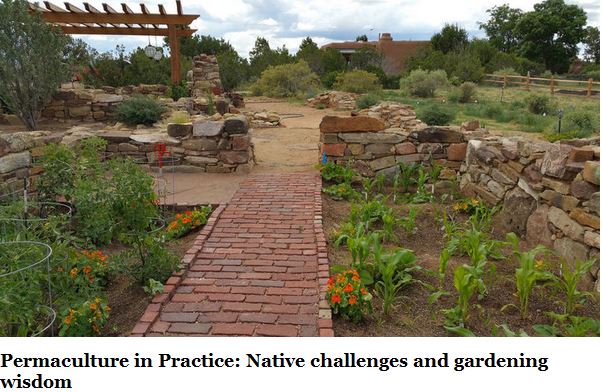 My October Permaculture in Practice column weaves through the Dakota Access pipeline crisis to dryland gardening wisdom and back in solidarity with the protesters in North Dakota and beyond.
Glendive, Mont., must sit close in the hearts, minds and guts of the Standing Rock Sioux. A little more than 200 miles away as the crow flies — perhaps twice that many as the trout swims — the little city with a population under 5,000 has experienced two major pipeline-leak disasters over the last five years. As a result, the 12-inch-diameter pipeline that crosses the Yellowstone River just above Glendive has spilled about 125,000 gallons of crude oil into its water supply. (Can you say, "Montana Acreage! Price Reduced!"?)
One part of the bad news for the Sioux and all their friends and allies is that the proposed Dakota Access pipeline would have a 30-inch diameter — that's 6.5 times larger than a 12-inch pipe. On its website, Dakota Access LLC boasts that it wants to move a "light sweet crude" material, but don't let the name fool you. It's the stuff of diesel.
As corporate America and indigenous America openly clash, I'd like to honor the Native people of this land by sharing with you one of my favorite practical gardening techniques. I first learned about it in a permaculture design course. It's an age-old technique used by some of the earliest farmers of this region. It's called a "waffle garden" or a "sunken garden," and it's essentially the opposite of a garden packed full of raised beds.
In a waffle garden, like a raised-bed garden, paths are at ground level. In the former, planting areas are dug below grade. In the latter, a significant amount of imported soil is contained by retaining walls that can be made of wood, rock, metal or other materials.
Waffle gardens allow for ease of hand watering. They provide opportunities for stormwater harvesting. They protect seedlings from brutal desert winds. They provide shade for the upper root systems of young vegetable starts—especially during hot, high-mesa afternoons and solstice-extended evenings.
Sunken beds are helpful wherever soil erosion is a concern. Each depression holds mulch in place. Each is designed to trap nutrients that might otherwise be washed away by the next big rainstorm. The snow they harvest during the winter months is also significant.
Compared to the elbow room that is usually designed into a raised-bed situation, the narrower foot paths that are required in a waffle garden increase the potential production area for a given garden space. Meanwhile, from an economic-inputs standpoint, it's important to note that waffle gardens need no lumber, nails, screws, or other soil-retaining materials, and they require a significantly lower volume of imported compost.
Yes, raised beds are easier to fortify against diggers like gophers, but maybe we need to look at some animals like the ancient ones did — not as a nuisance but as a meal. Regardless of where you might stand on that issue, there are certainly effective means of keeping critters out of a waffle garden without digging your slingshot out of the garage and staying up all night on guard.
It's not easy, but there are also ways to prevent gopher-like projects from destroying rivers. This will require many moons of work and strong support from people like you.