A Mine is a Terrible Thing to Waste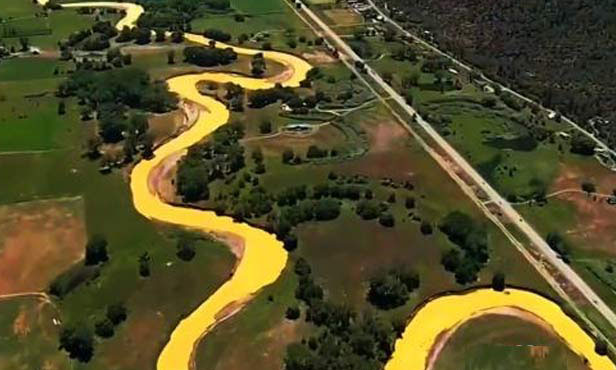 As a cumin-colored plume of toxic sludge trudges toward Lake Powell, a never-ending cleanup process begins in the northwest corner of New Mexico. In addition to worrying about their drinking water, people along the Animas River are concerned for thirsty herds, parched crops, and regional wildlife. They know that fewer jobs, lost revenues from tourism, and plunging property values are likely to follow.
In June, the EPA reported that 6,800 public water systems in the U.S. are located within one mile of a hydraulic fracturing well. No one knows for sure what happens as a result of "fracking," but until further studies are complete it's fair to say that friendly neighborhood gas mines are markedly bad for most real-estate markets.
Last January in Glendive, Montana, the public water system was shut down for the better part of a work week. It was the second time in four years that a pipeline had polluted the Yellowstone River near the town's water source. The first incident featured 650,000 gallons of crude. Fortunately, only 50,000 gallons escaped during this year's leak of cancer-causing petrochemicals.
About a year ago, an algal bloom on Lake Erie cut off water to half a million humans in Toledo, Ohio. Fifty-six hours later, people were told they could drink city water again, but images of bottles flying off shelves remain fresh in the freaked-out minds of local officials.
The current attempt to update the four-decades-old federal Toxic Substances Control Act grew out of a public outcry surrounding the 2014 Freedom Industries chemical spill that left 300,000 West Virginians without water for five days. The bill, verbosely titled the Frank R. Lautenberg Chemical Safety for the 21st Century Act, is sponsored by New Mexico's own Tom Udall (who already has at least 50 Senate co-sponsors). Unfortunately, the House version, which passed with only one "no" vote, means business as usual.
Given that there are about 64,000 untested chemicals used by industry (according to the June 22, 2015, New York Times), the idea of testing only 10 per year (as the legislation stipulates) is, at best, lethargic. But it's probably much more devious than that. When it comes to protecting our nation's water supplies, the legislation is only a baby step at a time when major strides are necessary.
Since supporting industry seems to be the only way to get anything done in Washington, D.C., these days, it would make sense for Congress to encourage the fledgling rainwater harvesting industry. In all of the nasty cases of pollution referred to above, widespread collection of precipitation in cisterns would have reduced the need to deploy national guard trucks full of bottled water.
In addition to buffering properties from water-related drops in real-estate values, a water-harvesting revolution would also provide many worthwhile jobs. As the 2016 presidential race heats up, at least one candidate talks regularly about our nation's infrastructure. Let's remember that water harvesting could be seen as localized infrastructure development. Given our propensity to destroy the land and rivers around us, it should be part of any resilient economy in the 21st century.